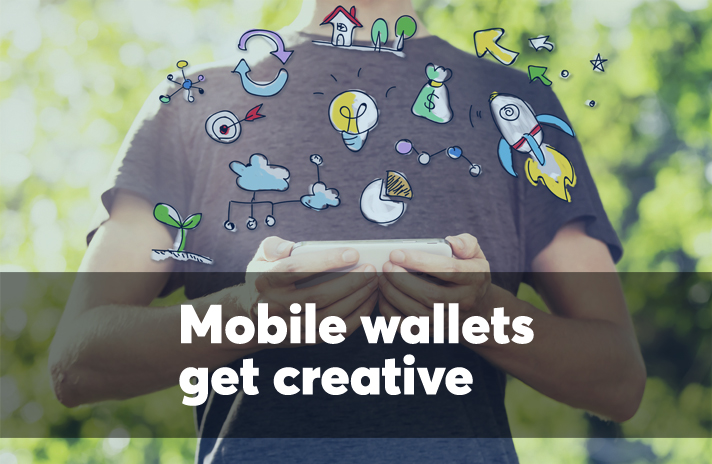 Mobile wallets blend together, going so far as to share the same branding pattern — Apple Pay, Android Pay, Samsung Pay, Walmart Pay, etc. — but a few companies are going against conventional wisdom with their own products.
Some of these mobile wallet makers question the need for a "mobile" component, while others attempt to do away with elements such as Near Field Communication technology or ordinary cash. The market for mobile payments is still young enough that any concept could find its audience, so today's oddities might become tomorrow's trendsetters.
This listicle is compiled from reporting by PaymentsSource staff writers. Click the links in each item to read more.
Shoving a mobile wallet into a plastic card
Dynamics Inc. has been committed to bringing high-tech multi-account cards to market for years, but it's tough to sell banks on pricier plastic in the age of mobile wallets and e-commerce.
In unveiling its new
Wallet Card
, the Pittsburgh-based manufacturer's intelligent card division says it has learned from the recent developments in digital payments. Dynamics went so far as to call its product the first "Internet of Things card" — and true to its name, the card has a direct line to the internet.
Like the company's earlier cards, the new product can rewrite its magstripe to draw funds from more than one account, such as a checking account and a rewards balance. The new product supports EMV and NFC, and it uses a digital connection from Sprint, enabling a lot more.
"Today, a consumer can be watching TV and hear news about a retail or other breach, and then they start looking for their cards to see who to call or what to do," said Dynamics CEO Jeff Mullen. "With the wallet card, they would get a message right on the display of the card that the bank is aware of the breach and has already issued new card codes to your digital card."
That sort of technology can go a long way to help Dynamics break down a wall that has been difficult in the past — convincing U.S. banks and issuers to take a serious look at Dynamics' wallet card, said Thad Peterson, senior analyst with Boston-based Aite Group.
"I was very skeptical when I went in, but this is a physical manifestation of the digital wallet and I was pretty impressed," said Peterson, who attended Dynamics' presentation at the Consumer Electronics Show in Las Vegas. "The fact that it changes with a push of the button, it is pretty impressive because when it changes the account number, it changes the mag stripe, the EMV chip and the NFC as well."