Broadly speaking, the biggest enthusiasts so far are consumers who skew younger and male. But that's likely to change over the next few years as voice assistant technology expands.

Digging into the data, certain preferences are emerging for using voice assistant technology for shopping and payments. "Smart speaker" devices like Amazon Echo and Google Home that are poised 24 hours a day to react to commands are increasingly popular, and Samsung is introducing one next month. But voice assistant usage is spreading on all types of devices from tablets and game consoles to the internet of things. Here's a glimpse into the momentum for voice assistant technology and purchase behavior among early adopters.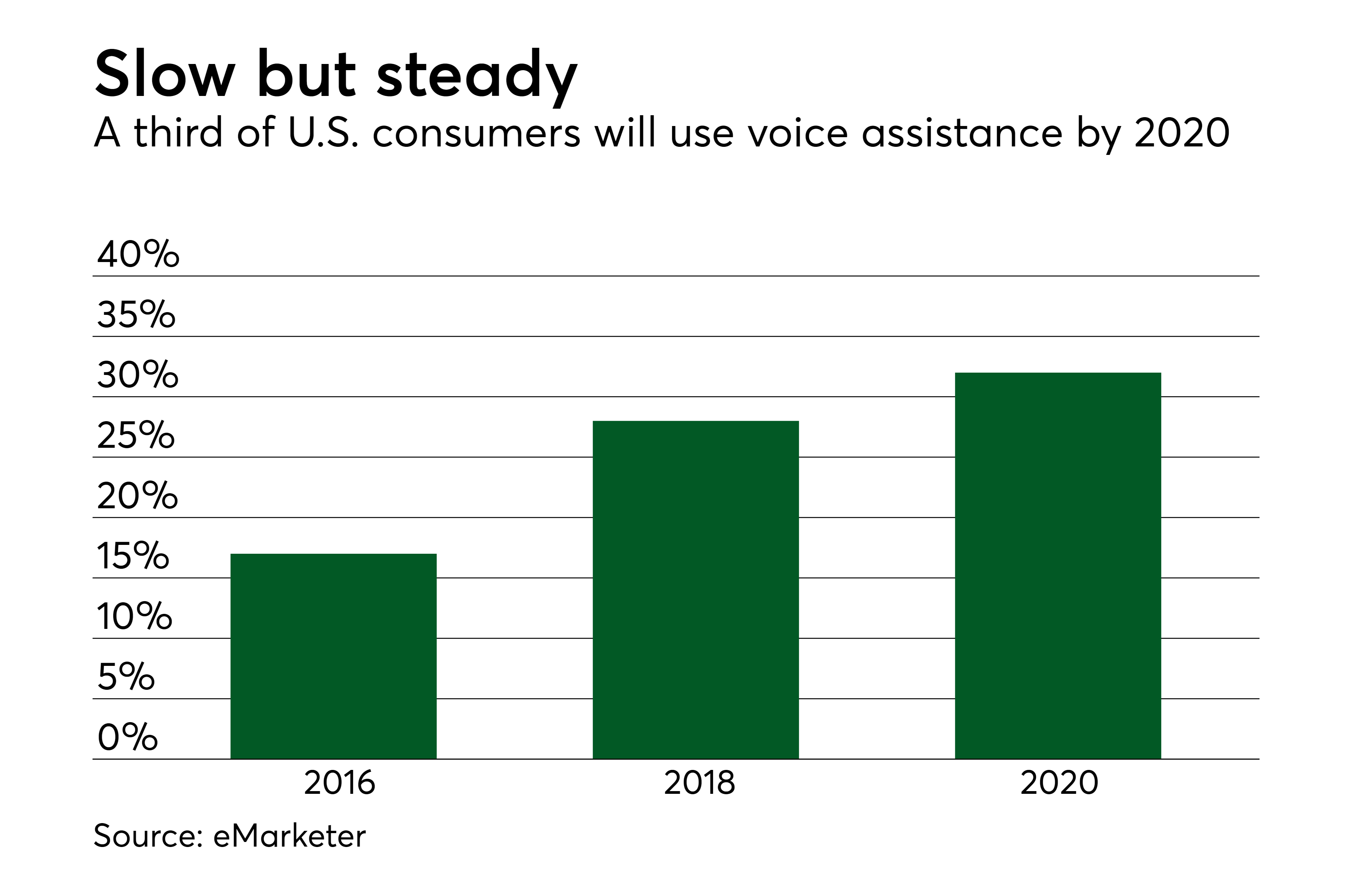 ---
Currently 91 million U.S. consumers are using a voice assistant on some type of device, according to eMarketer. That encompasses both "smart speaker" devices consumers place in their homes and voice assistant software (like iOS' Siri) built into smartphones, laptops, tablets, game consoles and wearables.

By 2020, about 106 million people, or a third of the U.S. population, will routinely use voice assistants for various tasks, eMarketer predicts.

The most popular tasks for virtual assistants are answering questions and providing weather updates, according to a number of studies. But increasingly consumers are using virtual assistants to navigate commerce—sometimes with a payment option—as merchants develop hands-free tools to order food for delivery or items on shopping lists. Amazon offered some voice-exclusive deals during its annual Prime Day events, and this week New York-based Yext announced a global integration with Amazon to give businesses control over the answers Alexa provides.
---
Men are significantly more likely than women right now to trust a voice assistant for shopping and payments, according to a new survey by global payments processing firm Worldpay.

Ordering food for takeout or delivery is the most popular shopping/payments task among both men and women, followed by buying groceries, getting an Uber, Lyft or taxi ride or shopping in general.

More than half of men consider voice assistants to be helpful, compared with just 40% of women. Fifty-seven percent of men said they "like" voice assistants, compared with 45% of women, but some worry about privacy issues. Fifteen percent of men and 24% of women said the fact that a voice assistant is "always listening and awaiting requests" is creepy.

Worldpay conducted its online survey in May 2018 of 516 U.S. consumers ages 18 and older.